"Center of Excellence" Gets a New Meaning in Las Vegas
Visitors and residents of the Las Vegas area are accustomed to elevated experiences, and that's why Dr. Ryan Grabow founded Concierge Carpal Tunnel and Hand Surgery: to give his patients a spa-like feel, even as they undergo surgical procedures.
For Dr. Grabow, his main focus is on using his expertise to provide his carpal tunnel patients the ability to experience a faster recovery after a procedure that comes along with excellent outcomes.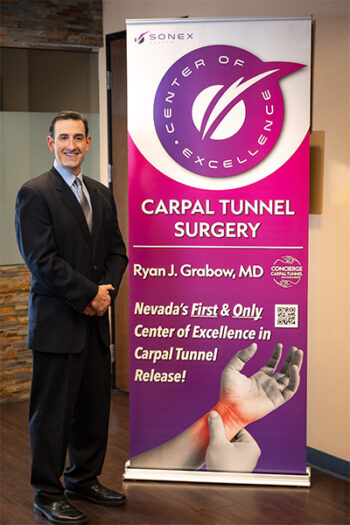 It's the reason The Institute of Advanced Ultrasound Guided Procedures has recognized Dr. Grabow as a national Center of Excellence Physician for carpal tunnel release (CTR) with UltraGuideCTR™ and real-time ultrasound guidance.
Patients Find Relief with Ultrasound Guidance
Dr. Grabow has been offering carpal tunnel release with real-time ultrasound guidance since July 2021, and he has helped more than 150 patients find relief from carpal tunnel pain and discomfort. "As hand surgeons, our training tells us to focus on the most conservative management first and we do that," says Dr. Grabow. "But for carpal tunnel, by the time most patients come to our practice, they've exhausted every conservative approach. I'm pleased to offer something that will make a real difference for them and get them back to enjoying their lives."
He says he encounters many patients who are fearful of carpal tunnel surgery because they have major concerns about general anesthesia, as well as the recovery times, which can take weeks or months. "The advantage of UltraGuideCTR is that it's not only elegant in its ability to relieve pressure on the nerve in the carpal tunnel, but also very easy to use and a very straight forward procedure to perform."
He adds that most patients comment on how pain free and easy the procedure was and because he uses only local anesthetic — they can usually drive themselves home.
A Differentiated Surgical Experience
Dr. Grabow says his focus is not only providing outstanding outcomes, but also an outstanding experience. "It is literally the most relaxing procedure. We use LED neon color lights to create a different environment than you'd find in an OR, and many of our patients opt to wear our exclusive virtual reality relaxation system so they can watch a nature program or a documentary instead of focusing on the procedure. It's just a bit of our Las Vegas flair showing through," he says with a smile.
Attracting Patients Through Carpal Tunnel Education
While Dr. Grabow gets many of his patients from physician referrals, he also goes out into the community to educate patients on carpal tunnel syndrome and this minimally invasive approach. This includes local health fairs where he offers complimentary ultrasound scans of potential patients' wrists and hands to show them what their nerves look like.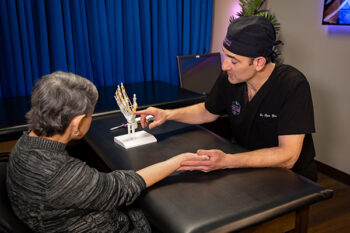 "They are actually getting an ultrasound scan to see if they have carpal tunnel syndrome. The display shows them the benefits of our approach with UltraGuideCTR and real-time ultrasound guidance and then it links directly to our website to learn more," explains Dr. Grabow.
Despite all the extras, Dr. Grabow says what it really comes down to for patients is the feeling that their doctor really cares. "When a patient is looking for a doctor, they're looking for a degree of trust and relationship. I treat my patients as equals, and that makes a big difference."
He also has experienced carpal tunnel syndrome himself, so he can relate to what his patients are going through. "I went through carpal tunnel surgery when I was in my fellowship. I've had that type of anxiety and fear of going through general anesthesia, so I really empathize with my patients, and they respond to that and understand that I get it."
A Minimally Invasive Treatment for All Ages
For his older patients who may have comorbidities, the benefits of using a local anesthetic really come into play. "For these patients, general anesthesia can be quite an ordeal." Dr. Grabow says, "They may need to come off a blood thinner, see their cardiologist, do lab testing, or after the procedure, have GI tract issues to deal with due to slowing bowels."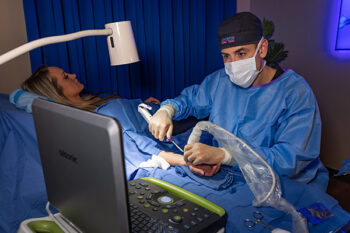 "These patients will say, 'you know what, I'll just live with the numbness and the pain'," says Dr. Grabow. "That's not fair or right. They are so relieved when we can tell them they don't have to do any of that. They can just show up, relax, watch a video, and we'll take care of them. It's extremely appealing to them."
For Dr. Grabow's younger patients, who aren't so concerned about anesthesia, they appreciate the ability to get back to their busy lives more quickly. "They're so excited when I tell them they must listen to their hand, but they likely will be able to do things within a day or two." He says that makes a huge difference for working people, caregivers, and others who rely on their hands to get through the day.
"It's the two things that come together, the simple and easy procedure, and the quick recovery that are the secret sauce of UltraGuideCTR and real-time ultrasound guidance. It really is the best way to treat carpal tunnel syndrome."
If you are a physician or hand surgeon interested in learning more about carpal tunnel release with real-time ultrasound guidance, visit The Institute of Advanced Ultrasound Guided Procedures to start your training today.
Related Articles: