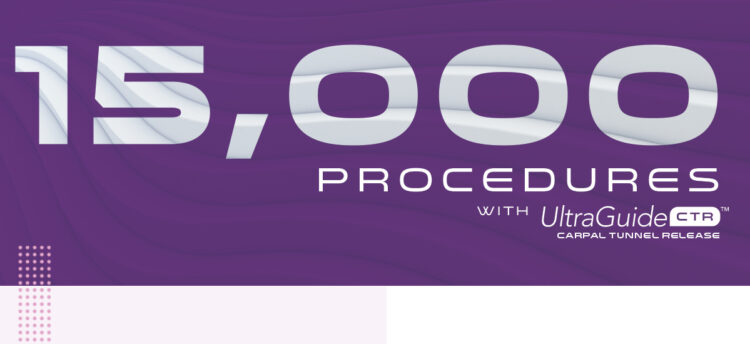 More than 15,000 Carpal Tunnel Release Procedures Have Now Been Performed with UltraGuideCTR and Real-Time Ultrasound Guidance
This latest milestone underscores the value patients and physicians place on the benefits of this minimally invasive approach. As the procedure count grows, the data continue to show carpal tunnel release (CTR) using UltraGuideCTR with real-time ultrasound guidance demonstrates clinically meaningful improvements in symptoms and function, rapid return to normal activities, and minimal work absenteeism in real-world clinical practice.1
A recent peer-reviewed article "Multicenter pragmatic study of carpal tunnel release with ultrasound guidance," published in the March 2022 issue of Expert Review of Medical Devices, reports that when using UltraGuideCTR and real-time ultrasound guidance, median time to return to activities was three days and return to work five days, suggesting a favorable time to return to normal activities and work when compared to published results of open/mini-open CTR procedures.
Authored by John Fowler, MD of the University of Pittsburgh Medical Center, Kevin Chung, MD of the University of Michigan Comprehensive Hand Center, and Larry Miller, PhD of the Department of Biostatistics at Miller Scientific, this was the largest study published on CTR using ultrasound guidance (CTR-US) to report return-to-activity and return-to-work data, comprising 521 patients and 651 wrists at up to 2.5 years post-CTR. It's also the eighth peer-reviewed publication reporting the clinical results on CTR-US utilizing the UltraGuideCTR device with ultrasound guidance.
Sonex Health and The Institute of Advanced Ultrasound Guided Procedures continue to build on the body of evidence with its August 2022 launch of the first CTR randomized controlled trial in the United States to compare the efficacy and safety of traditional mini-open carpal tunnel release (mOCTR) and carpal tunnel release using the FDA-cleared UltraGuideCTR and real-time ultrasound guidance: TUTOR (Trial of Ultrasound Guided Carpal Tunnel Release (CTR) Versus Traditional Open Release.
"The TUTOR study gives the investigators the opportunity to undertake a disciplined comparative assessment of an approach to treat CTS that requires only a very small incision while using ultrasound guidance to maintain visualization of the anatomy throughout the procedure," said Dr. Kyle R. Eberlin, associate professor of surgery at Harvard Medical School, a plastic and reconstructive surgeon at Massachusetts General Hospital and the study's principal investigator. "Both surgeons and patients prefer the smallest incisions possible so patients can quickly get back to doing the things they love."
In addition to Dr. Kyle Eberlin, other investigators include:
Christopher J. Dy, MD, MPH, FACS – Washington University Physicians
Mark D. Fischer, MD – Twin Cities Orthopedics
James L. Gluck, MD – Kansas Orthopaedic Center
F. Thomas D. Kaplan, MD, FAAOS – Indiana Hand to Shoulder
Thomas J. McDonald, MD – Sierra Orthopedic Institute
Alexander Palmer, DO – Sano Orthopedics
Marc E. Walker, MD – University of Mississippi Medical Center
James F. Watt, DO – Orthopedic Associates
The study's DSMB chair and independent medical reviewer: Kevin C. Chung, MD, MS, professor of surgery, plastic surgery and orthopaedic surgery – University of Michigan Medical School
Additional Data Safety Monitoring Board Members include:
Julie E. Adams, MD, professor of orthopedic surgery – University of Tennessee College of Medicine
Warren C. Hammert, MD, DDS, professor of orthopaedic surgery – Duke University School of Medicine
"We could not be more grateful to all of our physician partners who are contributing to these studies and providing patients fast-healing relief from the devastating effects of carpal tunnel syndrome using our UltraGuideCTR and ultrasound guidance," said Sonex Health CEO, Bob Paulson.
Up Next: Sonex Health and The Institute of Advanced Ultrasound Guided Procedures is launching a multicenter, prospective study to examine recovery time, effectiveness, and safety in subjects suffering from Carpal Tunnel Syndrome who are treated with CTR-US using real-time ultrasound guidance in a procedure room.
References:
1. Fowler JR, Chung KC, Miller LE. Multicenter pragmatic study of carpal tunnel release with ultrasound guidance. Expert Rev Med Devices. 2022 Mar 10. doi:10.1080/17434440.2022.2048816. Online ahead of print. PMID: 35236202