Ex-Naval Officer Named a Center of Excellence Physician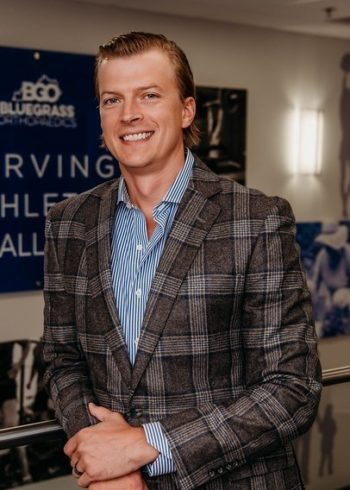 Dr. Victor Marwin is a fellowship trained hand and upper extremity surgeon at Bluegrass Orthopaedics in Lexington KY. He is also a former collegiate rower and US Naval Officer who served in Afghanistan and currently enjoys spending his free time hiking and exploring Kentucky with his wife and four children.
He's obviously a man of many passions, but his passion for improving the patient experience and outcomes when it comes to carpal tunnel release (CTR) procedures is why The Institute of Advanced Ultrasound Guided Procedures has named him a national Center of Excellence Physician for carpal tunnel release with UltraGuideCTR™ and real-time ultrasound guidance.
Exposure to Ultrasound Guidance Leads to Expertise
Center of Excellence Physicians are recognized for their demonstrated expertise in carpal tunnel release utilizing real-time ultrasound guidance and achieving outstanding patient outcomes.
Victor Marwin, MD, a native of New York, began offering CTR using UltraGuideCTR and ultrasound guidance in May 2022, and has already helped more than 100 patients find relief from carpal tunnel pain and discomfort using this minimally invasive technique.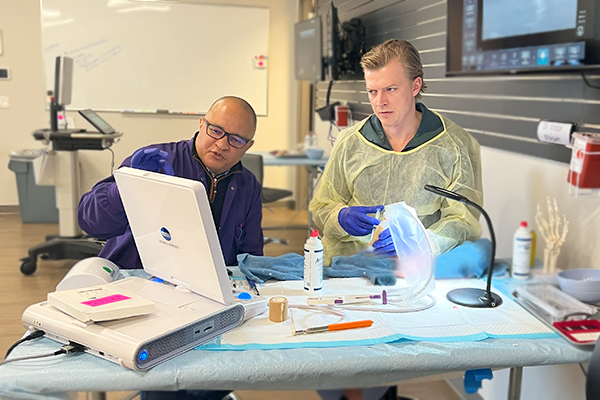 He began his medical career as an orthopaedic generalist and performed traditional open carpal tunnel surgery at that time. Later, during his fellowship, he was exposed to endoscopic CTR and other approaches. "I was a big fan of endoscopic and was convinced I was going to perform those exclusively when I finished my fellowship," says Marwin.
However, in the last few months of his fellowship at Jacobs School of Medicine in Buffalo, NY, his plans changed as soon as he was exposed to carpal tunnel release using real-time ultrasound guidance. "It was pretty novel when I first saw it. It was unlike anything I'd ever done before in my orthopaedic career and training," recalls Marwin.
Leveraging Ultrasound Enables Greater Efficiencies
"I was skeptical of it at first. I was convinced that it wasn't going to be that special compared to other approaches," he said. "But as soon as I started doing it, I realized that I couldn't have been more wrong. I really enjoy seeing all the structures with ultrasound. I think it allows me to be safer because there is very little bleeding that can obscure my vision, and I can really see the safest path to providing relief for my patients."
Dr. Marwin says this approach also allows him to do things more quickly and in a more efficient manner. He can perform carpal tunnel release with real-time ultrasound guidance in an office environment, which can reduce overall costs for his patients and for the healthcare system.
Today, he exclusively offers this method at his practice at Bluegrass Orthopaedics located in Lexington, Kentucky. "Once I learned ultrasound and the techniques specific to this type of carpal tunnel release, it became a no brainer. That's one of the reasons why I haven't done anything else since," says Dr. Marwin.
I'm the "Minimally Invasive Carpal Tunnel Guy"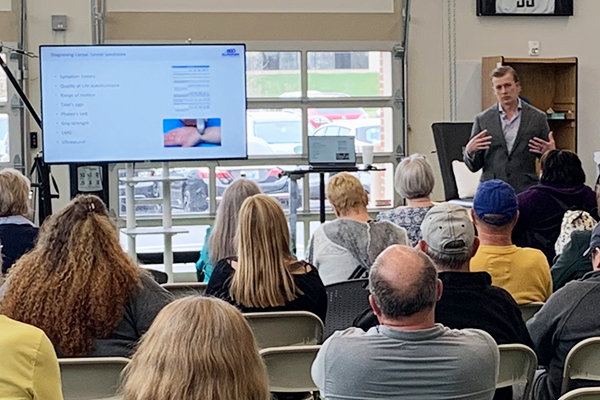 Dr. Marwin says that no one else in the Lexington area is offering this technique. "None of my partners do this, and I've been kind of known in the practice as the 'minimally invasive carpal tunnel guy.'"
He says he's starting to get a lot of patients who come in via word of mouth and he also holds open houses at the clinic where he scans visitors' wrists.
"People come to one of our events, they see me, get their median nerve scanned, fill out a questionnaire, and we quickly schedule them. They then become another source of more patients looking for relief."
Positive Feedback and a Great Night's Sleep
Despite having helped more than 100 patients, he has yet to hear any complaints about the technique. "I saw three patients today who came back for a follow-up. Like the others I've seen, they're doing really well, and were able to get back to their activities in a few days with minimal discomfort.
I have had patients who've gone back to lifting weights or installing commercial HVAC systems within a few days and they marvel that their symptoms are significantly better or totally gone."
Dr. Marwin enjoys hearing about the seemingly little things this minimally invasive technique has enabled. "These are patients who are now able to button their shirts without looking in the mirror because they can actually feel the buttons again."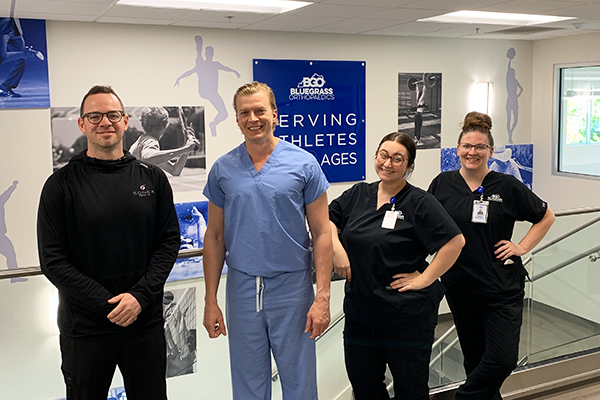 Then there are the bigger things — such as enabling patients to get a good night's sleep. As a father of four little ones, he understands the importance of rest.
"I love hearing from people who had profound night pain or numbness and tingling that woke them up at night. When they tell me that they're sleeping through the night because their hands aren't waking them up, that's incredibly powerful. And it means a lot to me."
Congratulations to Victor Marwin, MD for being recognized as a national Center of Excellence Physician by The Institute of Advanced Ultrasound Guided Procedures!
Learn more about The Institute and our training programs to begin your MSK ultrasound training today.
Related Articles: