Driven by Patients' Quick Recovery Time, Dr. Brett Kindle Reaches a Grand Milestone
Dr. Brett J. Kindle of Gulf Breeze, FL, recently performed his 1,000th carpal tunnel release (CTR) with UltraGuideCTR™ and real-time ultrasound guidance!
The patient? His own Physician Assistant, Christine, who was not only his 1,000th procedure, but also Dr. Kindle's first procedure using UltraGuideCTR and real-time ultrasound guidance in October 2018. After her procedure, Christine returned to work the same day.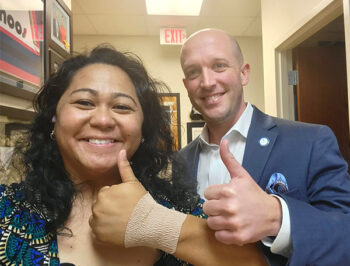 We had the opportunity to speak with Dr. Kindle about performing his 1,000th procedure and his experience with UltraGuideCTR and real-time ultrasound guidance.
Q: What are you most proud of after performing 1,000 procedures?
A: I'm most proud of being able to provide a service to the community that gets patients back to their activities in a very timely manner.
Q: How quickly do you see your patients return to their normal activities?
A: Patients' quickly return to normal activities within 2-3 days. It's one reason I have praised this minimally invasive technique that provides fast-healing relief from the pain and debilitating effects of carpal tunnel syndrome.
Q: Thinking of your patients who have undergone CTR using ultrasound guidance, do you have any anecdotes about how carpal tunnel syndrome (CTS) affected a patient's quality of life and why the patient selected CTR with ultrasound guidance for their treatment?
A: Yes, one example sticks out. A police officer had a mini-open CTR procedure on their non-dominant hand a year prior and needed to miss two months of work to heal.
The officer now needed their dominate hand treated and was hesitant to seek treatment due to the anticipated healing time. Throughout the day, while driving the police car, their hand would go numb. Symptoms were also affecting sleep. Finally, the officer heard about carpal tunnel release with UltraGuideCTR and real-time ultrasound guidance from a friend and decided to see me.
The officer was able to return the work the following day without having to take time off!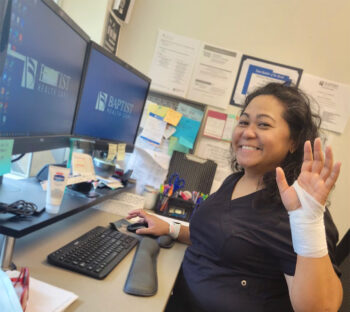 Q: Can you describe the typical patient experience during the first 48-72 hours following carpal tunnel release with ultrasound guidance?
A: I always tell every patient the same thing. I do not want them lifting, pushing, or pulling greater than ten pounds for at least a week with the hand that we are treating.
I always stress the importance of leaving the bandage clean and dry. Do not remove the bandage and keep it covered in the shower until we take it off on day four post-op.
Q: What is a typical schedule for patients undergoing CTR with ultrasound guidance?
A: We do our surgeries on Mondays. The patient is asked to arrive 90 minutes prior to the scheduled procedure time and can expect to leave 15 mins after the procedure. In total, they spend less than two hours at our clinic.
The patient will then return on Friday for a wound check and dressing change. Half the patients wound is healed to the point we don't need to put anything back over it, the other half, we will put a fresh steri-strip or two on to the wound and don't do any further dressing.
Q: Where do you perform the procedure?
A: I perform CTR with ultrasound guidance in an out patient surgery center using local anesthesia, which is very convenient for my patients.
Stop Dealing with Carpal Tunnel Syndrome Pain
An estimated 13 million adults in the United States1 suffer from carpal tunnel syndrome (CTS), a nerve disorder that causes numbness, tingling, and pain in the hands and fingers. Left untreated, CTS can cause long-term damage and debilitation.
If you are someone who wants to take your life back from carpal tunnel syndrome, use our physician finder to contact one of our partnering physicians and schedule a carpal tunnel release with ultrasound guidance screening today!
References:
1. Papanicolaou GD, et al. The prevalence and characteristics of nerve compression syndromes in the general population. J Hand Surg 2001;26A:460-6.