Congratulations to Dr. Reginald W. Kapteyn and his team at Orthopaedic Associates of Muskegon, Michigan. He has now given more than 140 patients fast-healing relief from carpal tunnel syndrome with carpal tunnel release using UltraGuideCTR™ and real-time ultrasound guidance.
"I had the pleasure of performing the procedure on a local rheumatologist who is astounded by the elegance of the technology," said Dr. Kapteyn. "He returned to work the very next day and has had great symptomatic relief, no pillar pain. He speaks very highly of the procedure and technology."
"My patients are very satisfied with their speedy recovery," he said. "I've had many say that the night after surgery was the first time they've slept through the night in months."
For pain relief, none of Dr. Kapteyn's patients have requested anything more than the Tylenol® and ice he recommends. "Most patients say they notice immediate relief from paresthesia and rapid recovery over the next few days," he said. "They're very grateful for the rapid return to work."
About Dr. Reginald Kapteyn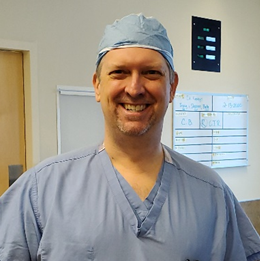 Reginald W. Kapteyn D.O., M.A., B.A., specializes in management of painful conditions of tendons, joints, muscles, nerves, and all sports and spinal related conditions. Dr. Kapteyn utilizes multi-disciplinary, non-operative techniques or micro-invasive operative management of these conditions to decrease pain and improve function. A conservative, balanced approach is the hallmark of his care. Dr. Kapteyn has offices in Muskegon and Grand Haven, Michigan.